Patented Plaster J-Bead Frame® * Grilles exclusively by Advanced Architectural Grilleworks
Now in TWO QUICK-SHIP STYLES
We manufacture the only Patented Plaster J-Bead Frame® *. We invented it, perfected it and provide the widest range of options, styles and sizes.
Our patented product provides the Quickest, Cleanest and most Accurate installation available — each and every time.
If it saves you time — it saves you money.
---
SEEMINGLY SIMPLE. SIMPLY SEAMLESS.
The AAG Advanced Architectural Grilleworks exclusive Plaster J-Bead® * frame (*patent) combined with our quality linear bar grille cores provides a flush, borderless installation for plaster and drywall applications on walls and/or ceilings. Also known in the industry as a "mud grille" or "plaster grille", it provides a seamless installation enabling you to smoothly capture the contour of any wall or ceiling.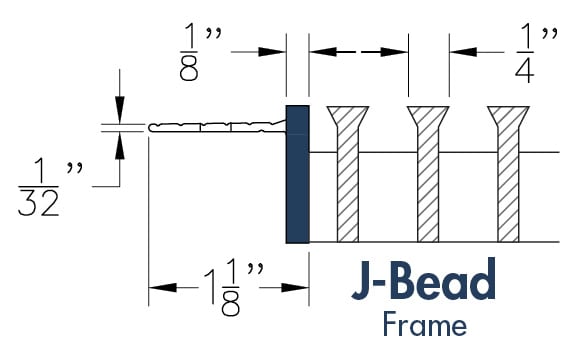 The exclusive Plaster J-Bead® * design for linear bar grilles is quickly fastened to the wall via the outer flange by either screwing or nailing through the pre-drilled holes. After fastening, the flange is covered with a skim coat of plaster providing your customer with a clean, flush appearance.
FRAMED LINEAR BAR GRILLE – PLASTER J-BEAD® */ "MUD-IN" GRILLE
The core is removable for access to damper controls. Advanced Architectural Grilleworks pioneered this one-piece frame design and developed a wide range of fastening methods for attaching the core to the frame providing unparalleled removable access. These custom fabricated Plaster J-Bead® * framed linear bar grilles are available in aluminum with a full range of finishes: satin #4, satin–anodized, mirror polish #8, prime painted, or powder coated.
PRODUCT FEATURES
Solid, Fully Welded Construction
Multiple Pre-punched Holes for Quick Installation
Fully Removable Core to Access Dampers, Filters and Duct-Work
Extra Wide Flange with Multiple Channels to Capture Plaster or Mud, Ensuring a Smooth Feathered Installation
Built In Knife Guide Enables your Installer to Achieve Multiple Plaster Finishes Including Level 5
Accommodates a Wide Range of Wall Thicknesses
304 Stainless Steel Fasteners, inserts and hardware