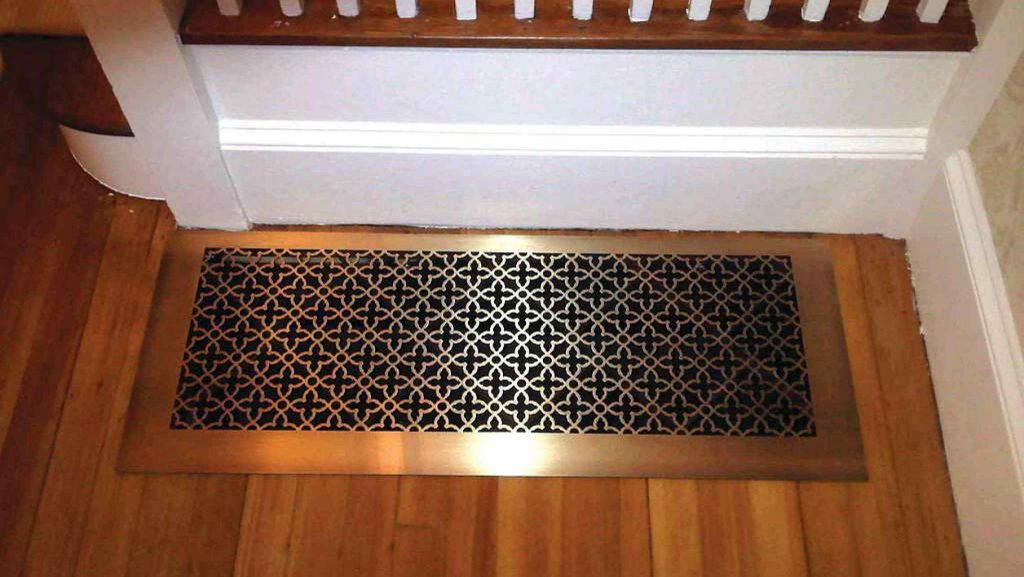 AT A GLANCE
TYPE:
Perforated Grille
STYLE:
AAG719 Majestic
DETAIL:
Added Support
MATERIAL:
Bronze
FINISH:
Medium Statuary

Custom Floor Grille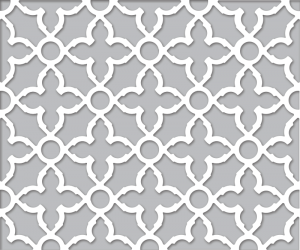 The Story
Our focus on customer service excellence extends to corporate clients as well as discriminating private homeowners like this one.  Because of this client's demanding work and travel schedule, communication regarding his project's requirements was conducted over the phone, and via fax, email, and digital photography.  Pre-set conference calls enabled the customer and our team to address design issues and options on an ongoing basis.
The customer required a replacement floor grille for a large misshapen opening in his basement floor adjacent to the side of a staircase.  This rectangular opening had out-of-square corners, and none of the opposite sides were parallel. The side closest to the staircase wall was at an angle, and the distance between the edge of the opening and the wall varied widely from one end to the other.  The location of the grille near the base of the staircase also meant possible heavy foot traffic. Lastly, the floor grille had to be aesthetically pleasing as well — complementing the wood trim and décor of the basement.
Working closely with the customer over the next several weeks, our engineering department addressed the critical issues of form, fit, and function for this custom perforated grille.  We presented a series of submittal drawings detailing custom grille installation options as well as material and finish selections.  Although the customer had reservations about our suggestion of a Majestic patterned 1/8" thick Bronze Perforated Grille (AAG719), he deferred to the engineering team's expertise.  The grille would be surface mounted with a flange and welded stiffener bar frame to hold it firmly against the inside opening edges.  No screw holes or screws would be visible on the face of the grille.
Final results: The  AAG 719 Bronze Perforated Grille, installed by the client's HVAC contractor, fit perfectly and the bronze finish and design blended beautifully with the surroundings.  All of the design and installation obstacles had been overcome, the grille was installed on time, and the customer and contractor were equally pleased with the results.
Advanced Architectural Grilleworks – Case Studies