AT A GLANCE
TYPE:
Custom Laser Cut
STYLE:
Custom
DETAIL:
Concealed Brackets
MATERIAL:
3/8″ Bronze
FINISH:
Medium Statuary

International Hotel Checks In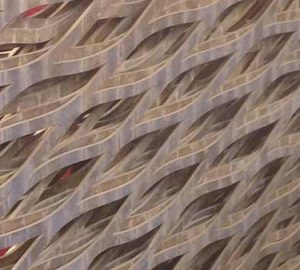 The Challenge
A large global construction company was under extremely tight scheduling constraints to complete a Five Star hotel. The project required several complicated designs that included custom developed patterns, mirror polished grilles, a large complete radius floor grille and geometrically shaped lobby center piece grilles.
Complex Issues
The sizes, shapes and materials of the grilles varied widely
The custom laser cut pattern
A specific bronze statuary finish required an exact match
The weight the material created a size limitation while the aesthetics of the assembled unit needed to be maintained.
There were radiuses, straights, miters and inlay sections that needed coordination
The Solution
Within one week, Advanced Architectural Grilleworks provided finish samples and mock-ups of the grilles required and shipped them by air.
Upon approval of finishes and submittal drawings, production was immediately started.
Full scale templates were created and followed to ensure exact fits
All of the grilles were joined and assembled in-house, tagged and coordinated with drawings and assembly instructions to be used on the site.
Success
All of the grilles were shipped on-time and arrived in excellent condition.  The customer was elated with the quality of service, responsiveness and the way our product helped their project achieve success.
Advanced Architectural Grilleworks – Case Studies